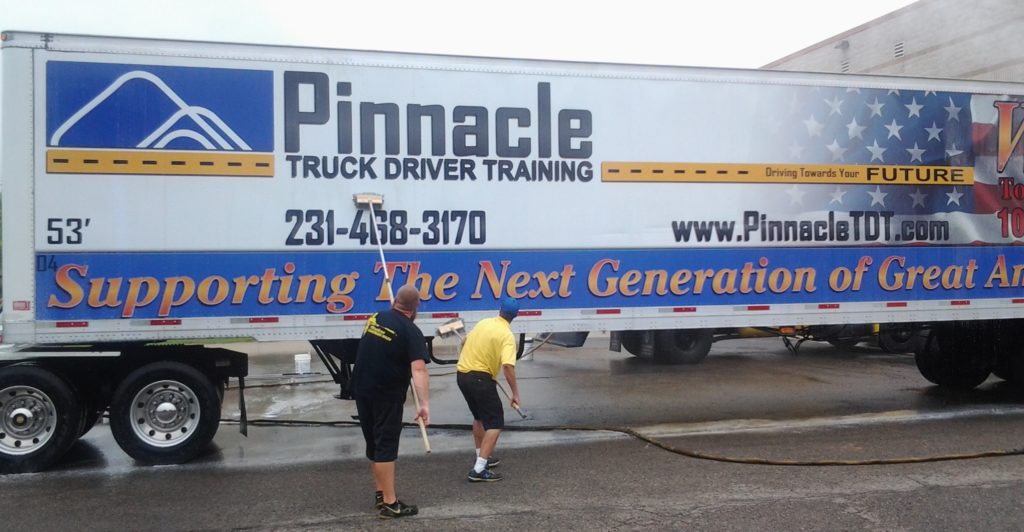 Pinnacle Truck Driver Training, Inc. is an independent, employee-owned business
founded in 2013 by Tim Martin, Tim Baker, Duane Dodde, Richard Herweyer, Michael Bell, and Frank Kopasz.  All six had worked together for several years in the truck driver training program at Baker College of Cadillac.  Four of the founding shareholders are currently involved in running the business day-to-day.  Because we are owners of the business, we approach our work with passion and a commitment far beyond that of ordinary employees.  And we have a great deal of fun in the process.
We believe that a lack of financial stability is at the heart of many problems experienced by families and society in general. We also believe that every person deserves the opportunity to become financially stable by obtaining secure employment. A career as an operator of commercial motor vehicles is an excellent way for many to achieve that stability and provide for themselves and their family.
We are committed to delivering training that enables these people to join the noble profession of commercial motor vehicle operator. We are a team of experienced professionals that bring a diverse set of complimentary talents to this task. For those with the innate capability, supportive family environment, and personal drive to succeed, we will be the leader in commercial motor vehicle driver training in Northern Michigan.
Pinnacle's guiding principles are:
The primary goal is long-term employment of the graduate. Before enrolling in a course, prospective students and their families will clearly understand the employment opportunities and the nature of the work to minimize unrealistic expectations.
We will work to help each graduate find employment that best meets his/her individual needs relative to type of driving, income, benefits, & home time. Those with criminal records or serious driving offenses are welcome, but may have fewer and less desirable employment opportunities.
Customers should only pay for the training they need, want, or can use. For those who do not need the full 160-hour course, we will customize training to meet their needs whenever it is in the best interest of the customer.
Every customer should be treated as a friend.