Maybe you know someone who attended college for a year or two, accumulated several thousand dollars in student loans, and now can't find a job that pays enough to live on.  Or, maybe you know someone who is caught on the "temp worker merry-go-round", chasing the goal of full-time employment that continues to elude them.  Maybe that someone is YOU.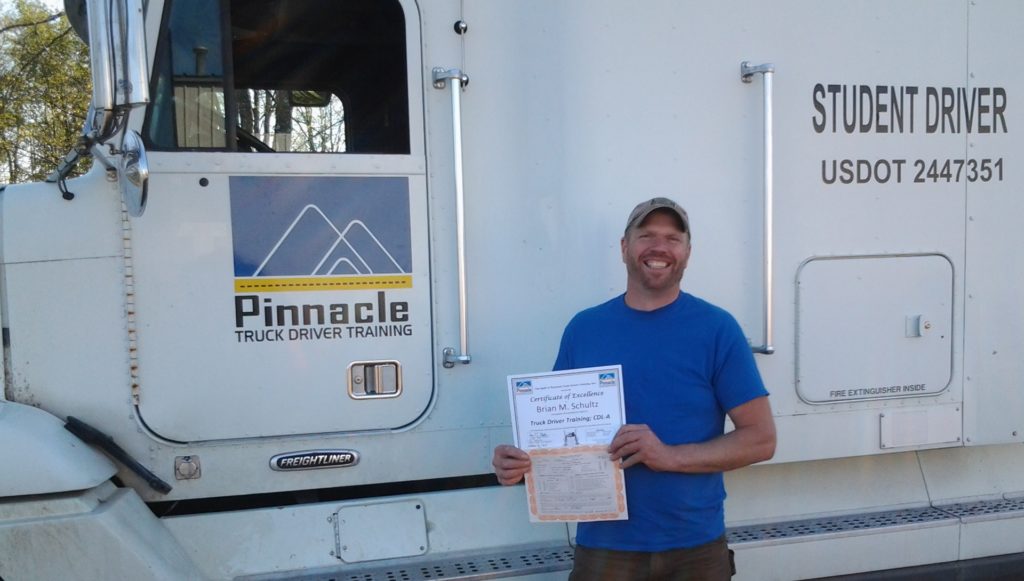 Training at Pinnacle to be a professional truck driver is different.  In the first place, training takes weeks, not years.  Most people train four weeks, pass the Skills Test the following week, and report to their new job the week after that.  In other words, in as little as 6 weeks from the first day of your course, you can start your new career and begin earning a middle-class income.
Over-the-road driving jobs are plentiful.  The U.S. Bureau of Labor and Statistics estimates that the demand for truck drivers will nearly double from 1.44 million on the road in 2014 to 2.76 million in 2022.  Earnings for first-year drivers average $35,000-40,000 plus benefits such as: health care insurance, 401(k) retirement plans, paid vacation, etc.  "Home time" as frequent as 2 days per week is also available with some companies.
If you:
are at least 21 years of age; (DOT regs prohibit 18-20 year olds from driving out-of-state.)
obtain a CDL-A;
have a clean driving record;
pass the DOT physical exam and pre-employment drug screen;
do not have a significant criminal record;
want to work; and
present yourself professionally at an interview
then, we can almost guarantee you an offer of employment with an over-the-road company.
A "local" job – the kind that gets you home every night – is more difficult to find for those without driving experience.  However, local jobs do open up occasionally and, when they do, those employers frequently contact Pinnacle for help finding a good driver.  If your personal situation prevents you from being an over-the-road driver, we will do our best to help you find employment locally.