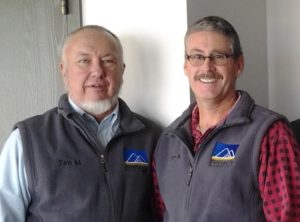 Tim Martin (Left) and Tim Baker, two of the founders of Pinnacle Truck Driver Training, Inc.
Tim Martin – President
Tim M. is a chemical engineer who retired from the chemical industry after 27 years in both engineering and management assignments.  He joined Baker College of Cadillac in 2002 as an instructor of business courses and became Dean of Business Administration Programs in 2008.  In that role, he was responsible for overall management of the truck driver training program as well as programs in management, marketing, accounting, entrepreneurship, and human resources.  In addition to teaching and curriculum development experience, he brings many years of management experience to Pinnacle.  Besides providing overall direction and financial management for Pinnacle, Tim teaches the material for the CLP tests, federal regulations, and the simulator modules.
Tim Baker – Vice President of Operations
Tim B. became involved in truck driving during his years working in the utilities construction industry.  Already a heavy equipment operator, he also learned to drive the truck to get the equipment from one job to the next.  He has been a licensed instructor since 2007 and has worked in all areas of truck driver training.  For three years, he was Director of the Baker College of Cadillac Truck Driver Training program. In that capacity he was responsible for all aspects of the program including promotion, teaching, student advising, instructional staff supervision, and equipment procurement/maintenance.  For Pinnacle, Tim handles promotion, student recruitment, instructor supervision, and job placement.
Duane Dodde – Instructor
Duane has been a Pinnacle shareholder since the founding of the company.  He became a licensed instructor in 2009 after a long career as an owner-operator and as a company driver.  Duane has a flair for teaching pre-trip inspections.  He is also a range & over-the-road instructor for Pinnacle.
Richard Herweyer – Instructor
Dick is another founding Pinnacle shareholder.  He has many years of experience as an over-the-road driver and owner-operator. Dick has been a licensed instructor since 2010. He is known for his knowledge of the equipment and his innovative teaching methods.  For Pinnacle, Dick is primarily a range & over-the-road instructor.  However, he does teach in the classroom occasionally.
Jeff Boyer – Instructor
Jeff has been a licensed instructor since 2008 and worked with Martin, Baker, Dodde, and Herweyer at Baker College of Cadillac before joining Pinnacle.  He is a retired teamster with 2,000,000 miles of safe driving.  If it has tandems and a diesel engine, Jeff has probably driven it.  While he is mostly a range & over-the-road instructor with Pinnacle, Jeff sometimes teaches in the classroom.
All range/over-the-road instructors are licensed by the state of Michigan.